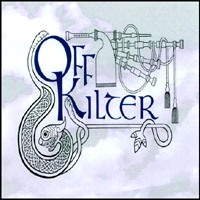 Eighty slash minus? It is pronounced "Eighty shilling" and 80/- is a style of beer name like "pale ale" or "stout." The Scots had other classifications for their beers as the heavier a beer was brewed, the more ingredients it required(therefore it was taxed higher, 80 shillings was the tax per hogshead of beer).
Light - (60/-) was under 3.5% abv
Heavy - (70/-) was between 3.5% and 4.0% abv
Export - (80/-) was between 4.0% and 5.5% abv
Wee heavy - (90/-) was over 6.0% abv
I've been told that the Scots barely use the terminology anymore and refer to the beers more as "heavy" or "export." So This beer could have easily have been called "Off Kilter Scottish-style Export." But in America, the term "export" lends more of a cheap designation for lagers that our dads and granddads used to drink.
The name for "Off Kilter 80/-" came from a Facebook poll of our followers. We had a lot of great name suggestions, but this one from Shannon Driesen warranted the most "likes." The runner up (who only lost by one vote) from Michelle Henninger-Ainscough was called "Thistle-do-nicely 80/-."
This beer comes in right where I expected at 5.25% and 18 IBU's, it is dry, refreshing and has a hint of caramel and roasted barley flavors. The color is a deep amber color and the yeast lends a few fruity esters. One thing it is lacking from traditional Great Britian beers is a hint of diacetyl. I like clean beers and this is really hard to control, so I let the beer ferment cleanly and thus "no diacetyl." This beer will be released on Friday Dec 7th at 4PM. Stop on by to help us celebrate a new release on the Amber Tap handle and I can't promise there won't be any kilts present.
Prost & Slainte!